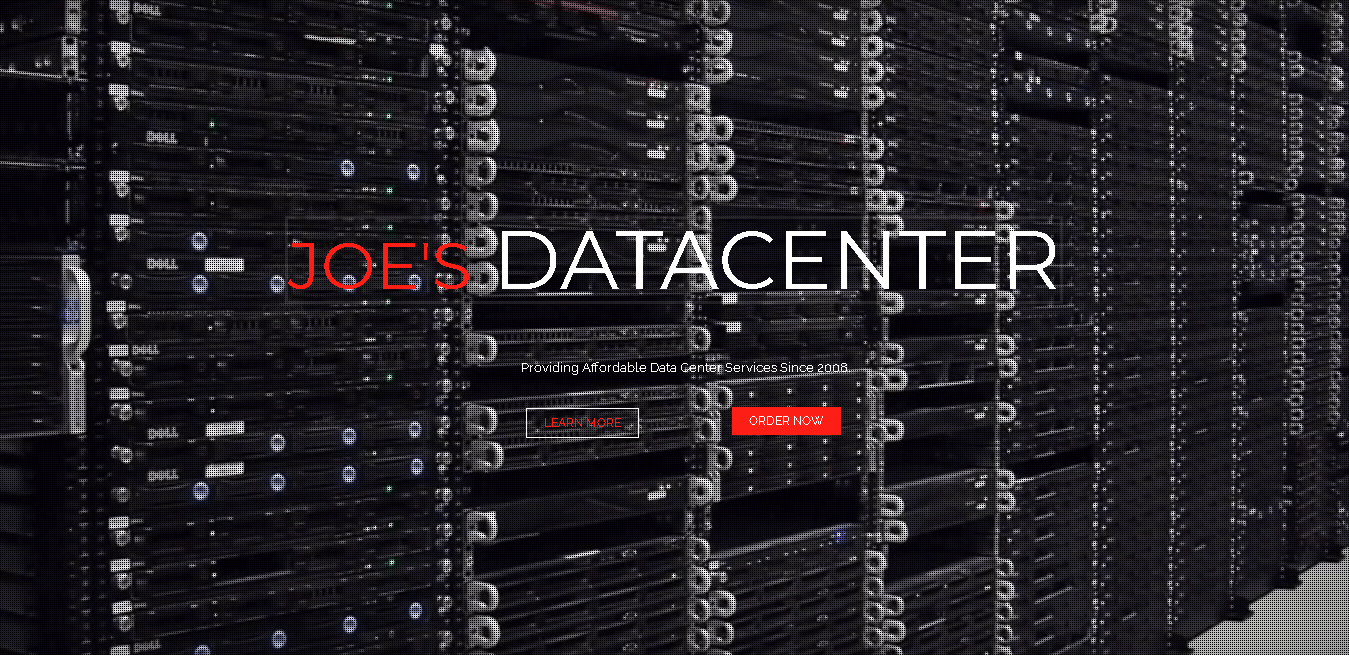 Table of Contents - Joe's Datacenter Review: Pricing, Features, Pros, Cons from Expert Advice & Real Users
Show
Joe's Datacenter is a small hosting company that simply isn't a match for big brands like Hostinger. The bigger hosting companies simply offer a better price for similar configuration.Joe's Datacenter was established in 2008 by Joe Morgan. His company owns and operates its own facility with two data centers located in downtown Kansas City, Missouri, from which it provides dedicated servers, virtual private servers, and colocation services.
All the in-house services are backed by in-house support, which helps Joe's Datacenter provide clients with high-quality services at competitive prices. The company's main website supports English, but its client area supports twenty-five additional languages.
Joe's Datacenter offers a wide range of VPS Hosting plans that differ according to your choice of:
OS template:  Arch Linux, CentOS, Debian, Windows 2008, Windows 2012
Compute Tier:  Linux Development Tier or Linux/Windows General Compute Tier
Compute Options: 1 vCPU to 4 vCPU with 4 GB to 16 GB RAM
Storage:  10 GB to 8 TB
You also get to choose your network specifications (from 1 to 4 IP addresses, and from 1 to 1000 Mbps speed) and enjoy free incoming bandwidth.
Joe's Datacenter also offers 33 dedicated server plans and 6 colocation plans. You can easily upgrade or downgrade at any time by submitting a support ticket. You can also submit a support ticket to request a free custom OS reload.
As its name suggests, one of Joe's Datacenter's selling points is its SOC 2 Type 2 certified data center facility that assures the highest levels of availability, security, confidentiality, integrity, and privacy. From the data privacy and compliance perspective, you can also rest assured that this provider is compliant with PCI-DSS/HIPAA.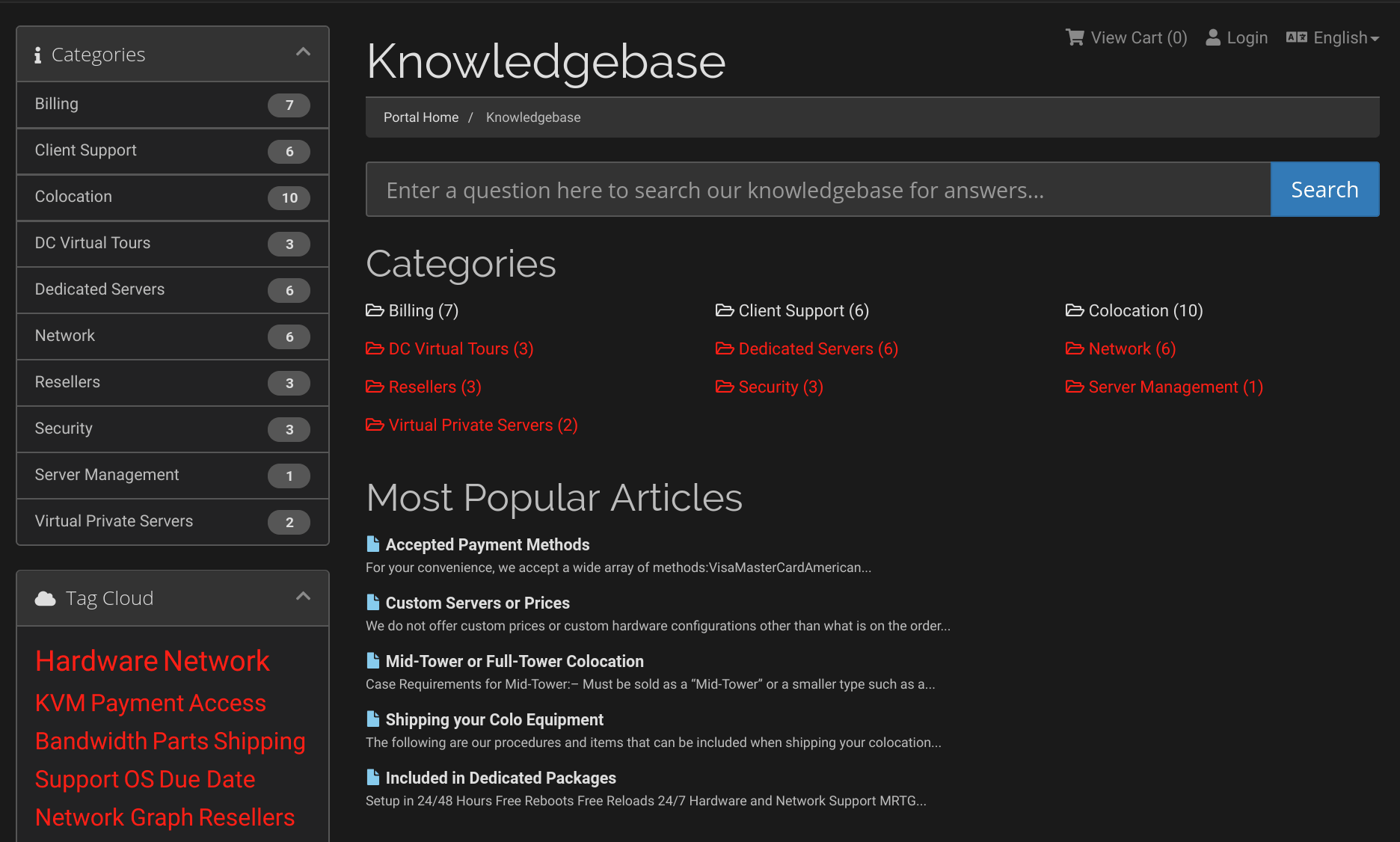 The starter VPS plan is pretty cheap, and you can pay for it monthly in U.S. dollars via PayPal, credit card, eCheck, money order, and even Bitcoin. Unfortunately, Joe's Datacenter doesn't do refunds under any circumstances.
You can contact this company's customer support team via telephone, support ticket, or email. Although Facebook, Twitter, and LinkedIn are also listed as contact channels, my Facebook messages secured no response. If you have to resort to self-support, you'll find that the knowledge base contains several useful articles and tutorials. You can even click the FAQ section under each of the service pages, which will take you directly to the appropriate area of the knowledge base.
Joe's Datacenter offers multiple plans priced highest to lowest. The price depends on which type of hosting plan you choose. You can see the updated pricing table (updated weekly) below.
Which Joe's Datacenter plan should I get?
My recommendation is to start with a cheaper plan. You can always upgrade later on. Joe's Datacenter can help you with the migration to a more expensive plan. The increase in visitors many times takes longer than expected and you shouldn't pay a lot of money until the need arises. Of course, your needs may vary, and you can consult with a hosting expert from Joe's Datacenter.
Joe's Datacenter is not ranked as one of our top web hosts. But that can also be a result of Joe's Datacenter being a small, under the radar, hosting provider. There are advantages to a small hosting company – as a customer, you are more important to them. You can also check out our comparison of the most popular web hosting services here.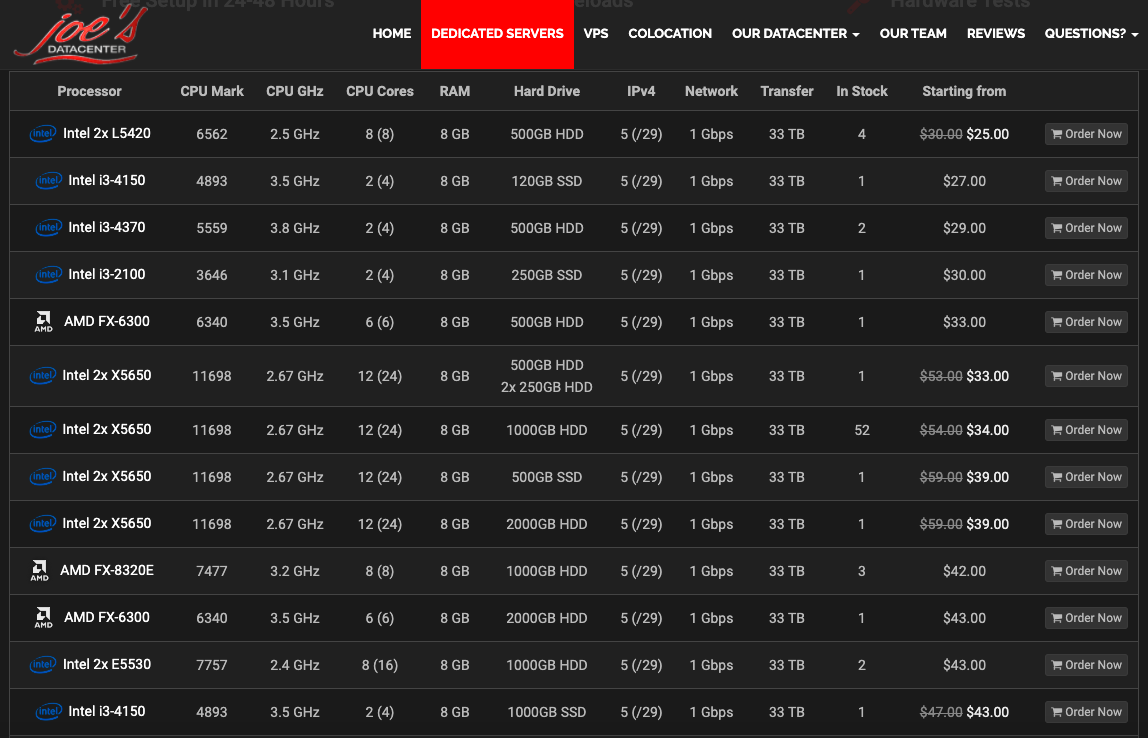 Joe's datacenter  proudly claims themselves as one of the most cost-effective web hosting server providers on the whole market. And to be fair, they do a pretty good job of keeping that claim factual.
Something that makes JOE's datacenter unique as a web hosting service and cheap dedicated servers are that their prices are displayed clearly and openly on its website for their visitor. I think Joe's deserves the praise for doing this. Additionally, their features (and limitations) are laid out clearly for potential customers to read and see if it's plans are right for them.
None of 'JOE's datacenter competitors have this level and type of transparency. Other competitors in the market will hide the prices or make you sign up before you can even see them. This is often done to sneak in hidden charges that they don't want to reveal until they've gotten you to register (and partially commit to going with them).
And while the price can seem high when directly comparing with other hosting providers, you do actually get a lot for your money, mainly in the service department. The tech support is second-to-none and the care that clients receive is exclusive, to say the least.
The image below shows the starting prices for each type of hosting at JOE's datacenter  .
JOE's datacenter well-trained data center technicians and engineer's will be happy to provide you with expert and personal support around the clock via telephone and email.
I have tested more than 12 similar datacenter services in the past at our personal blogs and websites –JOE's datacenter  is easily one of the top 5 in terms of server quality, by far.
For the purpose of this review, I have used JOE's datcenter for a total of three months so far. Within that period, I am more than satisfied with my server' uptime. There was no downtime up to this point, to be exact. It was easy to set up thanks to their support team, and the processing power was on-par with other hosting companies.
With all of this in mind, let's get down to the big question: "Would we recommend it?"
And the answer to this is a resounding and absolute "YES". JOE's Datacenter  is a value-oriented, transparent, and highly-reputable service for any business or influencer trying to increase their brand visibility by using JOE's Datacenter secure and trusted web hosting service.
For the purpose of this review, I have used JOE's datacenter for a total of three months. And within that time frame, I experienced growth on my webpage, as well as good speed, solid reliability, outstanding support, and a good price to top it all off.
If you're looking to spread awareness for your brand by using a trusted web hosting service, JOE's Datacenter com will do the trick nicely.
We also definitely recommend  JOE's Datacenter to anyone who is looking for a simple, great web hosting. They provide fast servers, great support, and good features. All of these are provided at an incredibly low price (for what you get) without compromising on quality. You will rarely find a web host offering these same great services at a lower price, and  Dedicated.com is one-of-a-kind in that regard.
For any of our readers who skipped straight to the bottom of this review to get a TL;DR, look no further. You can also take this section as a quick summary of Joes Datacenter's service quality across its most important components.
Here's how Joe's Datacenter  scored:
Features: ★★★★★ (5/5 stars)
Safety / Security: ★★★★★ (5/5 stars)
Ease of Use: ★★★★★ (5/5 stars)
Price: ★★★★★ (5/5 stars)
Support: ★★★★★ (5/5 stars)
Growth: ★★★★★ (5/5 stars)
Final Score: ★★★★★ (5/5 stars)