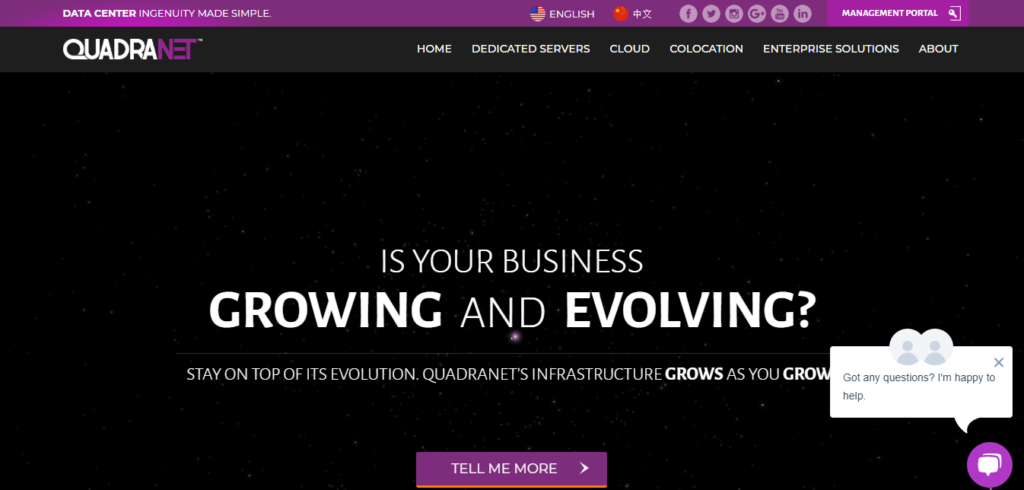 Table of Contents - Quadranet Review: Pricing, Features, Pros, Cons from Expert Advice and Real Users
Show
QuadraNet was originally formed in 2001 as a telecommunications provider in Los Angeles and the surrounding areas. As their client base grew, they adapted to the evolving industries and expanded their service offerings over time to encompass a larger variety of Internet-based products and services.
They eventually grew to become a full-service data center provider, providing colocation, dedicated servers, cluster management, and complex hosting solutions. Over the past decade, with the assistance of very talented individuals, QuadraNet has grown to become one of the largest providers in Los Angeles, California for cheap dedicated servers, colocation, cloud hosting, and bandwidth.
Server Stability and Uptime:
I never once experienced a single second of downtime with my dedicated server with QuadraNET. Being a Web Hosting Provider, I was experiencing DDoS attacks to my direct cPanel/WHM server but luckily I branched it off the dedicated server onto its own virtual machine for this exact reason. Even though I didn't have their VEST DDoS Protection, they still offered small-scale DDoS mitigation services. Any time an attack came through, they automatically mitigated it and prompted me via email and attack logs, etc. This was very informative and also appreciated because not all providers provide this sort of information.
Geographically Diverse Datacenter Locations
At QuadraNet they have had to expand their data center footprints and have found that building out individual data centers as they expand has proven to be to their advantage as they are able to segregate facilities from one another to provide redundancy, resiliency, and performance.
QuadraNet is now available in Los Angeles, Dallas, Miami, Atlanta, Chicago and the most recent New Jersey. In addition Virtual POP – Network Facilities are located in New York, Virginia, Missouri, Arizona and Amsterdam.
Affordable Price
Quadranet  proudly claims themselves as one of the most cost-effective web hosting providers on the whole market. And to be fair, they do a pretty good job of keeping that claim factual.
Something that makes Quadranet  unique as a web hosting service is that their prices are displayed clearly and openly on its website for their visitor. I think Quadranet  deserves the praise for doing this. In fact, on most screen resolutions and layouts, you can actually see their plan pricing without even scrolling down on the page! Additionally, their features (and limitations) are laid out clearly for potential customers to read and see if Quadranet 's plans are right for them.
None of 'Quadranet s competitors have this level and type of transparency. Other competitors will hide the prices or make you sign up before you can even see them. This is often done to sneak in hidden charges that they don't want to reveal until they've gotten you to register (and partially commit to going with them).
And while the price can seem high when directly comparing with other hosting providers, you do actually get a lot for your money, mainly in the service department. The tech support is second-to-none and the care that clients receive is exclusive, to say the least.
The image below shows the starting prices for each type of hosting at Quadranet .
Customer Support:
Their Customer Support was phenomenal. They never seized to fail me with anything that I needed help with and their response time was always fast. What I like about them is that they are like your regular businesses working 9-5 and off on the weekends. They make that clear and has never been unexpected when I submitted a ticket during the weekend and didn't receive a reply until Monday. Even then, someone was there to respond to my ticket and let me know when I should receive a resolution.
Our Experience:
I have tested more than 12 hosting services in the past at our personal blogs and websites –Quadranet   is easily one of the top 5 in terms of server quality, by far.
For the purpose of this review, I have used Quadranet for a total of three months so far. Within that time frame, I am more than satisfied with my server' uptime. There was no downtime up to this point, to be exact. It was easy to set up thanks to their support team, and the processing power was on-par with other hosting companies, while the disk speed was excellent thanks to those SSDs they use.
Final Recommendation:
With all of this in mind, let's get down to the big question: "Would we recommend it?"
And the answer to this is a resounding and absolute "YES". Quadranet  is a value-oriented, transparent, and highly-reputable service for any business or influencer trying to increase their brand visibility by using Quadranet's secure and trusted web hosting service.
For the purpose of this review, I have used Quadranet for a total of three months. And within that time frame, I experienced growth on my webpage, as well as good speed, solid reliability, outstanding support, and a good price to top it all off.
If you're looking to spread awareness for your brand by using a trusted web hosting service, RoseHosting will do the trick nicely.
We also definitely recommend  Quadranet to anyone who is looking for a simple, great web hosting. They provide fast servers, great support, and good features. All of these are provided at an incredibly low price (for what you get) without compromising on quality. You will rarely find a web host offering these same great services at a lower price, and  Quadranet is one-of-a-kind in that regard.
Scorecard:
For any of our readers who skipped straight to the bottom of this review to get a TL;DR, look no further. You can also take this section as a quick summary of Quadranet 's service quality across its most important components.
Here's how Quadranet  scored:
Features: ★★★★★ (5/5 stars)
Safety / Security: ★★★★★ (5/5 stars)
Ease of Use: ★★★★★ (5/5 stars)
Price: ★★★★★ (5/5 stars)
Support: ★★★★★ (5/5 stars)
Growth: ★★★★★ (5/5 stars)
Final Score: ★★★★★ (5/5 stars)