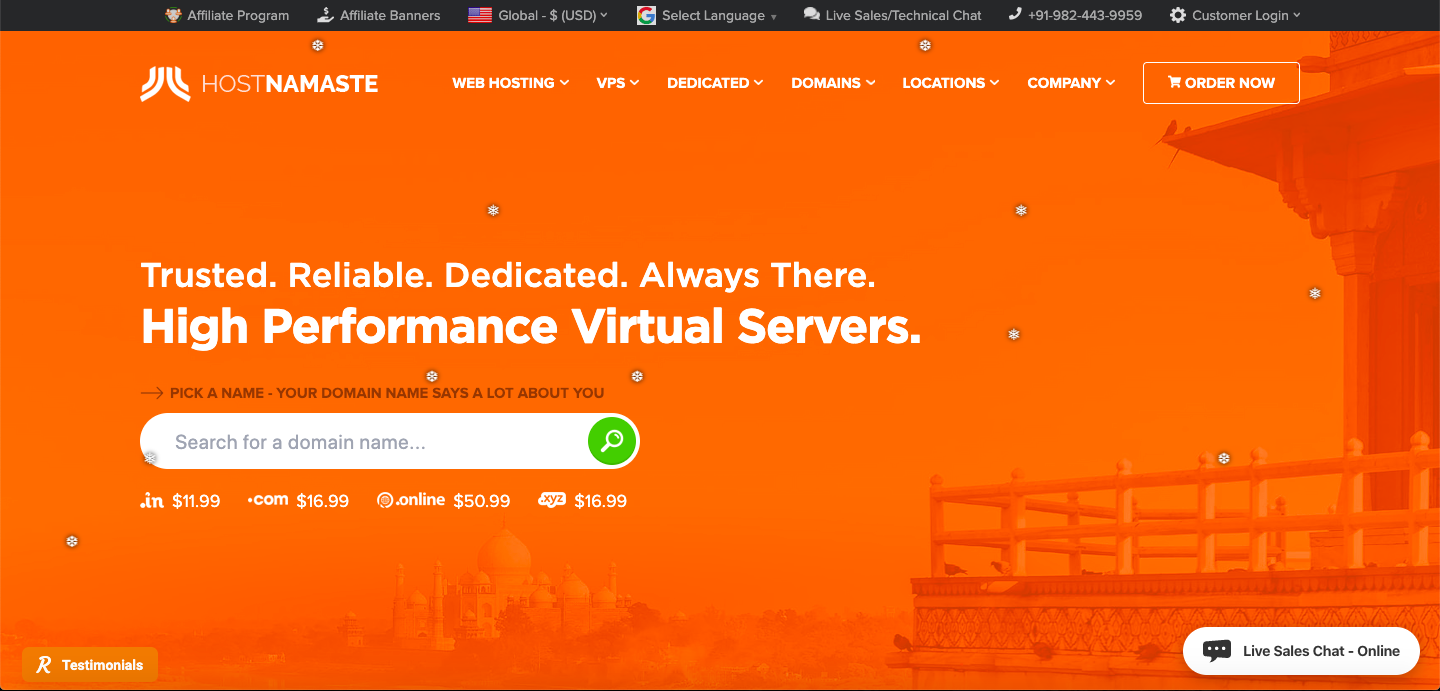 They are a proudly Indian Hosting provider, offering the fast and reliable hosting facilities with the sincere commitment of quality support, uptime and security with the competitive pricing. We have tried to cover almost everything about the HostNamaste here in this article and hope you will like it.
You will be amazed to know that HostNamaste is the best web hosting solution for the entire small as well as the big websites. And the best thing is that it is the most affordable shared hosting service that you will find in the market. Thus, you can also say that HostNamaste offers the best Indian web Hosting services around you. The best part of HostNamaste is that they have data centers both in the USA as well as in India. The vision of the company is to provide the best service at a low price. Once you take their services, you will find that website that is present on their servers run fast, and it is only because they are overloaded. You can find two types of hosting services that are offered by HostNamaste hosting company. The services are Shared hosting and reseller hosting.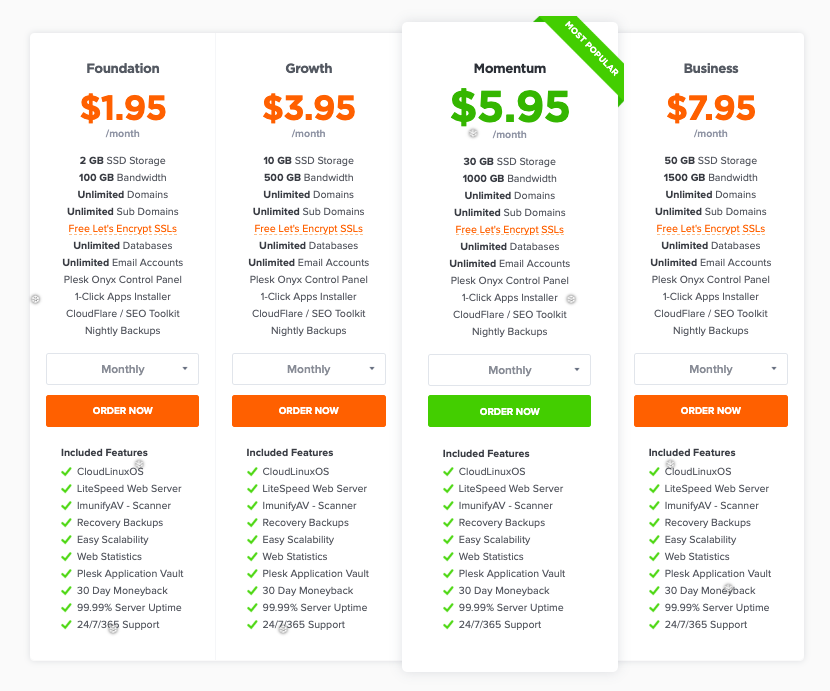 Now let us understand the difference in the services that is provided by the shared and reseller hosting. You will find it amazing to know that HostNamaste offers many features along with the shared hosting plans. Some of those features are like comprehensive cPanel, and while using this cPanel, you will find that they have lots of options present. Moreover, it comes with an accessory device which is mainly designed to increase the performance of the website, and it is only possible with the softaculous installer. This will help you in easy downloading of the several software like Drupal, WordPress, and Joomla with a single click.
You can also say that the shared hosting package is configured from beforehand in order to achieve maximum uptime. This helps in getting a smooth and flexible workflow with your website. Some of the features that are offered by HostNamaste for their shared hosting are mentioned below. They are
In general, HostNamaste offers four types of plans; they are Foundation, Growth, Momentum, and Business. Each of the plans has their own benefits and features. In the case of the foundation plan they charge only 1.49 dollar per month and offers 2 GB SSD storage. And it gives support to only 1 domain with 50 GB bandwidth. This plan is ideal for the one who has only one domain, but if you have multiple domains, then you can go with the remaining plans. The interesting thing about the Business plan is that they give support to the unlimited number of the domain along with 50 GB of SSD storage, which is really amazing. Moreover, if you opt for the business plan, then you will also get a dedicated IP for free. You can find detailed information about these plans in the picture below.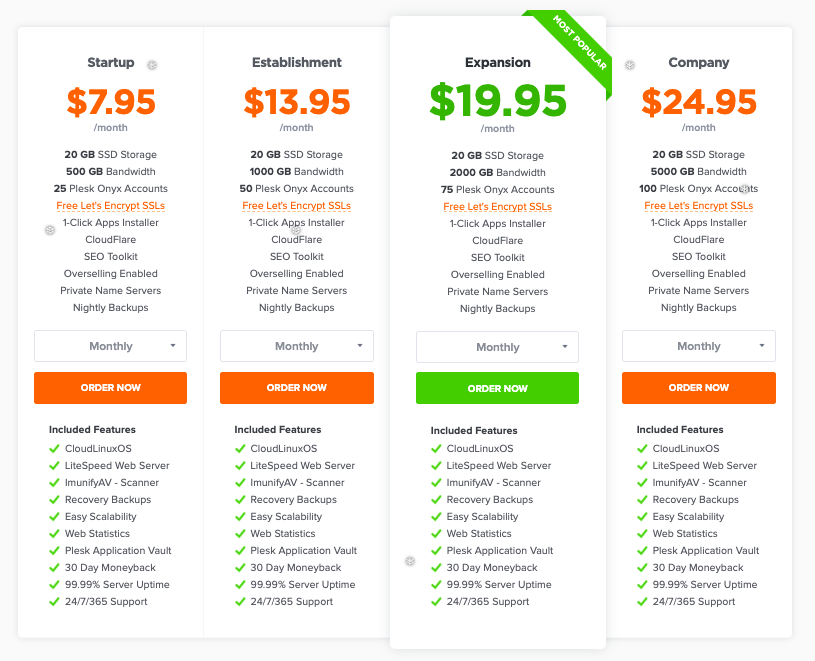 The company HostNamaste has used tremendous effort so that they can offer all sorts of hosting services that you need. The HostNamaste is so flexible for hosting that you can easily set up your own hosting business. Once you use their service, you will find that you get the greater value of your money as they provide several benefits including the free cPanel migration. Some more features are mentioned below:
   While using the reseller hosting by the HostNamaste hosting company, you will find that they offer the blazing fast SSD hosting along with the cPanel and WHM access.

   In addition, the hosting is also powered by the CloudLinuxOS along with the LiteSpeed web server.

   Moreover, you will also get an unlimited number of cPanel migration with the private and custom name servers.

   Most importantly you are going to get the free Comodo SSL certificates.
There are four different types of plan that are offered by the HostNamaste for their reseller hosting. They are startup, establishment, expansion, and company. Each of the plans mentioned has its own merit and demerit. You must select the plan as per your requirement and capacity of the usage. For example, in case of the Startup plan, you will be charged only 2.99 dollars per month, and you will be given with 20 GB of SSD storage and 400 GB bandwidth and dedicated IP is not for free under this plan. But if you are going to choose the company plan, then you will have to pay 14.99 dollars per month, but with this, you will get some additional features. Like the free dedicated IP, the unlimited number of cPanels, 200 GB storage and 1500 GB Bandwidth.
There are several reasons for which you must select HostNamaste for your web hosting choices. And after using their services, you will definitely find some difference. Some of the reason which supports HostNamaste as a preferred choice is mentioned below. They are:
You can say that HostNamaste has considered the entire market needs and has come up with the plan that is most affordable for all category of business, irrespective of their size. If you are using HostNamaste, then you can install the software that you require with just a single click. You will be amazed to know that you will have more than four hundred apps at the click of your button.
Along with the different services offered by the HostNamaste for the hosting website on their server, you also get the opportunity to transfer the domain to us. With this, you can also extend your domain for a year. Using this service is very flexible because all that you need to do is enter the name of the domain followed by the Authorization code and you will find that your domain is transferred to HostNamaste hosting company. Apart from this, you can also register a new domain at the most favorable rate. For instance, if you opt for the .com domain, then you need to pay only 16.99 dollars per year, and the rate varies with the different domain extension. You can find the list of all in the below picture.
The HostNamaste, which is web hosting portal, offers a different kind of server for the websites. That is under the dedicated server; you can use the server for hosting your website as per your need. List of the server offered by HostNamaste is Budget Server, Hybrid smart server, Intel Xeon dedicated server and also the Intel core dedicated server. The best part of this company is that you will get support round the clock, which means that while using their services if you face any difficulties then you can get help at the same moment.
You will find it surprising to know that there are more than one lakhs websites that are already hosted by HostNamaste and over five thousands servers that have been already deployed. The figure is quite convincing and it indicates that HostNamaste offers the quality web hosting services. The best thing is that still now the network uptime is hundred percent. How to increase web hosting sales
For any of our readers who skipped straight to the bottom of this review to get a TL;DR, look no further. You can also take this section as a quick summary of HostNamaste's service quality across its most important components.
Here's how HostNamaste scored:
Features: ★★★★★ (5/5 stars)
Safety / Security: ★★★★★ (5/5 stars)
Ease of Use: ★★★★★ (5/5 stars)
Price: ★★★★★ (5/5 stars)
Support: ★★★★★ (5/5 stars)
Growth: ★★★★★ (5/5 stars)
Final Score: ★★★★★ (5/5 stars)
HostNamaste Review : Pricing, Features, Pros, Cons from Expert Advice & Real Users
HostNamaste Review : Pricing, Features, Pros, Cons & Expert Advice. You will be amazed to know that HostNamaste is the best web hosting solutions for your site.
Price Currency: USD
Operating System: Linux and Windows
Application Category: HostNamaste Review : Pricing, Features, Pros, Cons & Expert Advice