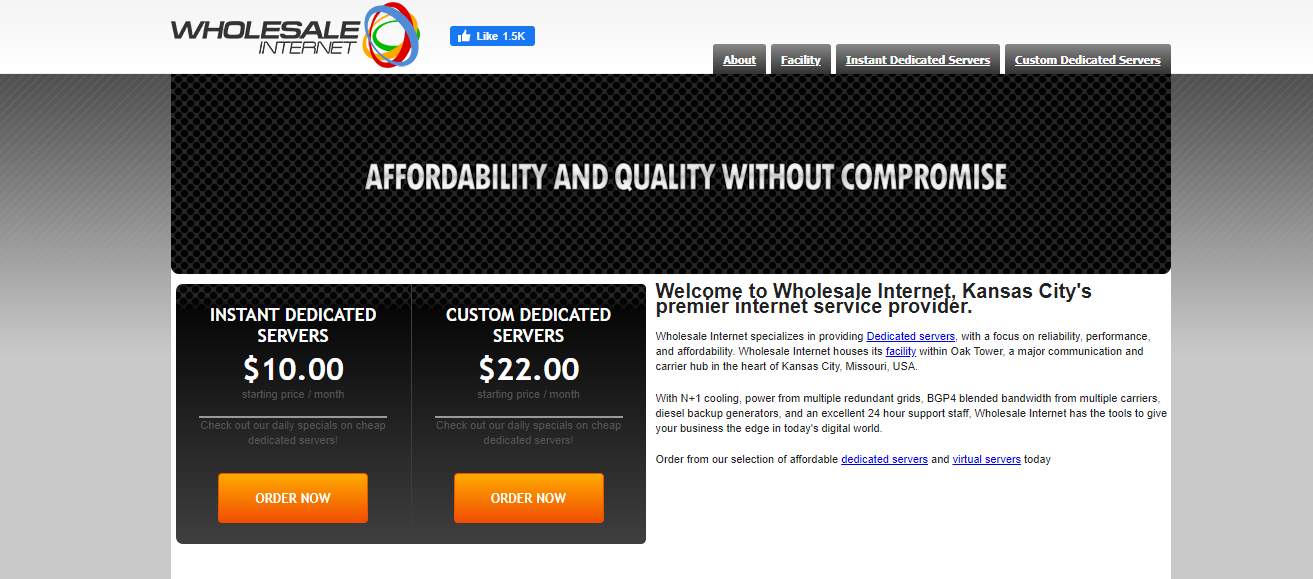 About WholesaleInternet:
WholeSaleInternet is a small hosting company that simply isn't a match for big brands like Hostinger. The bigger hosting companies simply offer a better price for similar configuration.
WholeSaleInternet was founded in 1999 in Kansas City, Missouri, U.S.A. Since then, they have grown to become the premier dedicated server providers in the region. Their promise is to provide affordable and reliable services to their customers.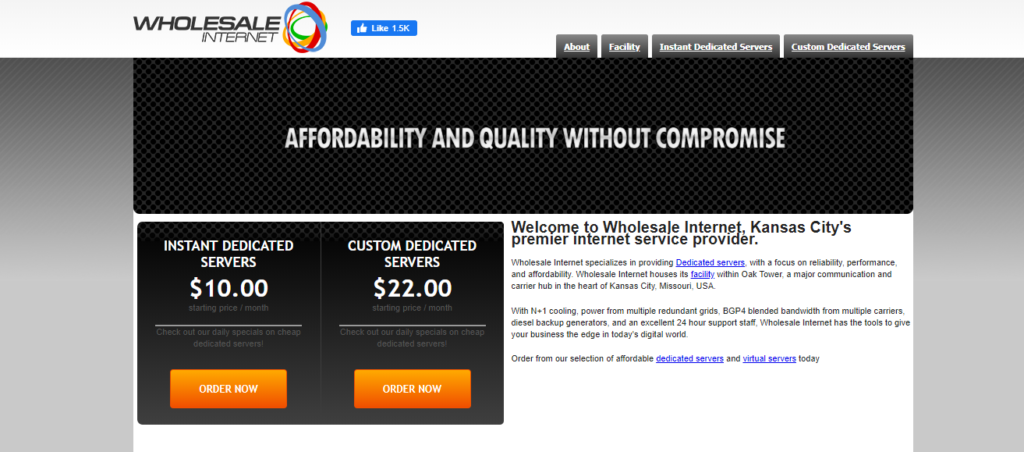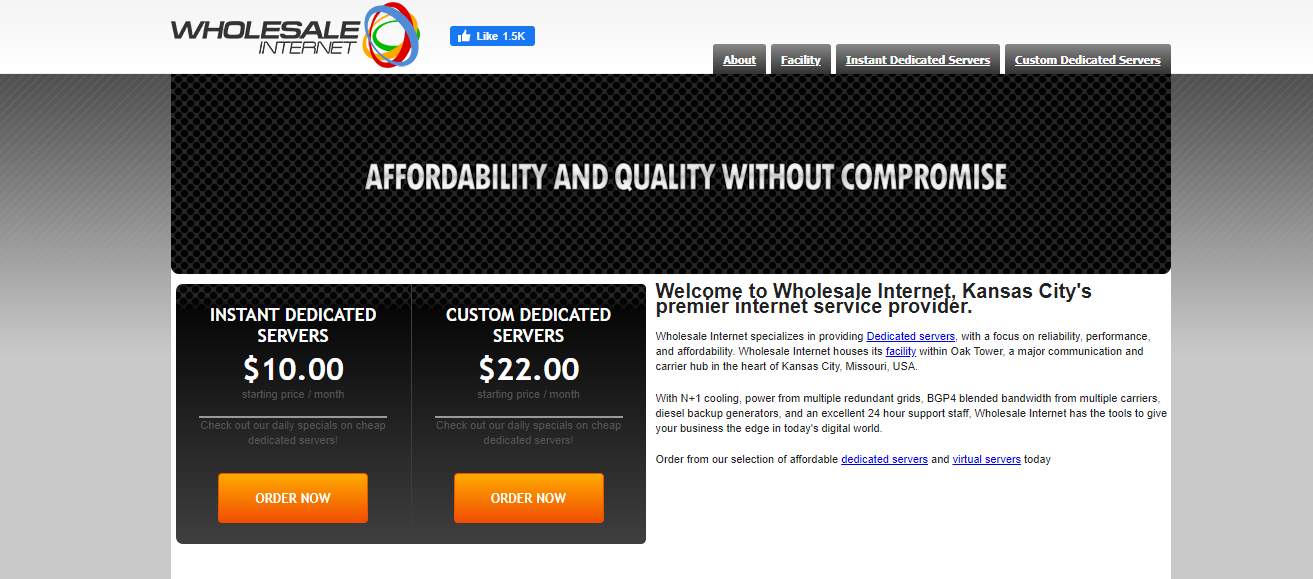 Features and Ease of Use
The servers offered by WholeSaleInternet are housed in their own data center. A lot of work goes on behind the scenes to ensure the servers perform well and consistently. These servers are powered by triple redundant power systems while the network is fully redundant as well. Their preconfigured servers are ready for immediate deployment and you can expect your servers to be in full working condition in no time.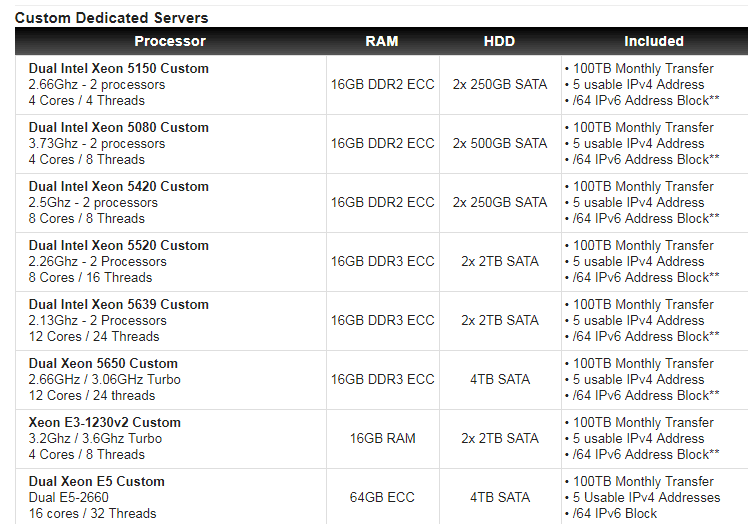 You can opt for all kinds of processors from Intel Atom to i7, and from AMD248 to AMD Opteron processor. Their infrastructure features both the SSD hard drives and SATA hard drives. Based on your needs, you can select the right one but there is no doubt that SSD hard drives perform much better than SATA, especially in applications where you need to access fast-changing data.
Pricing and Support
When selecting the packages, all you have to do is look for your desired specs in the table listed on their website and choose the package that best suits you. They offer both the Intel and AMD CPUs with anywhere from 2GB to 256 GB of RAM. Both the SSD and SATA hard drives can be opted for. In a similar way, you can choose the desired monthly transfer and usable Ipv4 Addresses. The packages are quite affordable but what makes them more user-friendly is that you have a wide variety to choose from and can easily pick a package that fulfills your exact requirements.
They can be contacted by email or telephone. To submit a ticket, you have to be their customer. Keep in mind that no technical support is provided over the telephone, so email and support ticket are your best options. They don't have any live chat, which nearly every service provider has these days. Their Facebook and Google pages aren't that active either. Overall, their support service gives a bad first impression.
Customer Support:
Their Customer Support was phenomenal. They never seized to fail me with anything that I needed help with and their response time was always fast. What I like about them is that they are like your regular businesses working 9-5 and off on the weekends. They make that clear and has never been unexpected when I submitted a ticket during the weekend and didn't receive a reply until Monday. Even then, someone was there to respond to my ticket and let me know when I should receive a resolution.
Our Experience:
I have tested more than 12 hosting services in the past at our personal blogs and websites –WholeSaleInternet  is easily one of the top 5 in terms of server quality, by far.
For the purpose of this review, I have used WholeSaleInternet for a total of three months so far. Within that time frame, I am more than satisfied with my server' uptime. There was no downtime up to this point, to be exact. It was easy to set up thanks to their support team, and the processing power was on-par with other hosting companies, while the disk speed was excellent thanks to those SSDs they use.
Final Recommendation:
With all of this in mind, let's get down to the big question: "Would we recommend it?"
And the answer to this is a resounding and absolute "YES". WholeSaleInternet  is a value-oriented, transparent, and highly-reputable service for any business or influencer trying to increase their brand visibility by using WholeSaleInternet's secure and trusted web hosting service.
For the purpose of this review, I have used WholeSaleInternet for a total of three months. And within that time frame, I experienced growth on my webpage, as well as good speed, solid reliability, outstanding support, and a good price to top it all off.
If you're looking to spread awareness for your brand by using a trusted web hosting service, WholeSaleInternet will do the trick nicely.
We also definitely recommend  WholeSaleInternet to anyone who is looking for a simple, great web hosting. They provide fast servers, great support, and good features. All of these are provided at an incredibly low price (for what you get) without compromising on quality. You will rarely find a web host offering these same great services at a lower price, and  WholeSaleInternet is one-of-a-kind in that regard.
Scorecard:
For any of our readers who skipped straight to the bottom of this review to get a TL;DR, look no further. You can also take this section as a quick summary of WholeSaleInternet 's service quality across its most important components.
Here's how WholeSaleInternet scored:
Features: ★★★★★ (5/5 stars)
Safety / Security: ★★★★★ (5/5 stars)
Ease of Use: ★★★★★ (5/5 stars)
Price: ★★★★★ (5/5 stars)
Support: ★★★★★ (5/5 stars)
Growth: ★★★★★ (5/5 stars)
Final Score: ★★★★★ (5/5 stars)